Basic Stance
The Sumitomo Chemical Group is working in unison to reduce its environmental impact. Specifically, we have set out goals in each field, including protecting the atmosphere and aquatic environments, conserving resources and managing waste, properly managing chemical substances, protecting biodiversity, and protecting soil environments. Each worksite and Group company is striving to enhance its initiatives aimed at achieving these goals.
Over the course of the three years of the current Corporate Business Plan (FY2019–2021) we aim to continue strengthening and enhancing our initiatives based on voluntary control and further enhance the level of activity undertaken by the consolidated Group. We also strive to more accurately and quickly disclose environmental performance indicators.
We are focusing on the following specific measures.
1. Appropriate Response to Laws and Regulations
By maintaining careful control of the execution and management of construction plans, we ensure appropriate response to notifications when changing the soil type of specified facilities that use hazardous substances and an expansion of opportunities for soil contamination surveys. (Soil Contamination Countermeasures Act)
We have enhanced the evaluation and management of environmental risks related to specified chemical substances expected to be selected under the PRTR Act. (PRTR Act)
Regarding refrigeration units using CFCs and HCFCs, we are systematically upgrading to equipment that uses low-GWP HFCs or non-fluorocarbon refrigerants (Ozone Layer Protection Law). We are also minimizing fluorocarbon leaks into the atmosphere from refrigeration and air conditioning equipment. (Act for Rationalized Use and Proper Management of Fluorocarbons)
We will systematically remove all electronic equipment that uses PCBs (in storage or in operation) by March 2025.(Act on Special Measures against PCB Waste)
2. Reducing Environmental Impact
Going forward, we will keep working to achieve our medium- to long-term voluntary management targets in the fields of air, water, soil, and waste, focusing our response on production bases.
Management System
The president and the executive officers in charge of Responsible Care serve as the coordinators of the Environment and Climate Change Action Group of the Responsible Care Department. This group is responsible for matters related to environmental protection for the Company as a whole and supports the environmental protection activities of Group companies.
Our worksites (head offices, Works, research laboratories) have established sections in charge of environmental protection operations, appointed coordinators and managers, and execute specific duties. Regarding the execution of duties, the corporate department (Responsible Care Department) formulates Company-wide annual policies and Company-wide medium-term (three-year) policies. Then each worksite, in light of these policies and in consideration of its own characteristics and regional situation, formulates an action policy and undertakes specific activities from the new fiscal year.
Regarding amendments to laws and regulations, the Responsible Care Department vigilantly pays attention to trends related to the enactment and amendment of environmental laws and, as appropriate, provides feedback through national specialized committees and other organizations. The department also establishes targets (details of the amendments, possible impacts, visualization of countermeasures, etc.) that all people addressing the problems can work towards and commits the Company to addressing the issue being targeted.
Furthermore, with regard to amendments that have a large impact on business, we access the necessary information in advance and notify worksites to prepare for meeting compliance requirements.
Goals and Results
The Sumitomo Chemical Group has established key environmental protection items as common goals. By following up on the results of each company, we are working to reduce our environmental impact in a systematic way.
Goal achieved or steadily progressing:○ Goal not achieved:△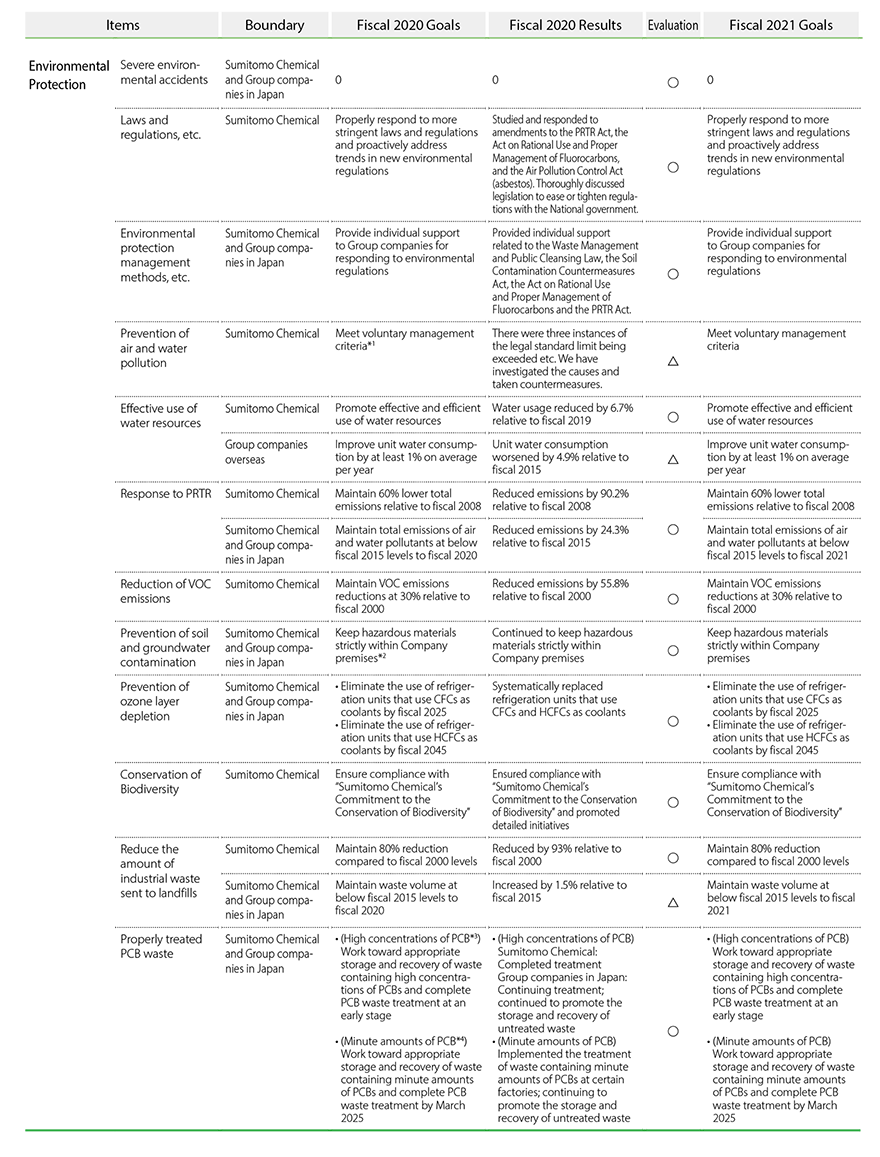 Note: Further details are provided in the supplementary data
*1 Voluntary management targets that are stricter than the mandated levels and criteria of relevant laws and regulations, including agreements reached with local authorities.
*2 Keep hazardous materials strictly within Company premises: Controlled on the premises.
*3 High concentrations of PCB: Polychlorinated biphenyl (PCB) intentionally used as insulation oil in such items as electric appliances
*4 Minute amounts of PCB: PCB unintentionally mixed in as insulation oil in such items as electric appliances (over 0.5mg/kg)