Home > Our Capabilities | Project Management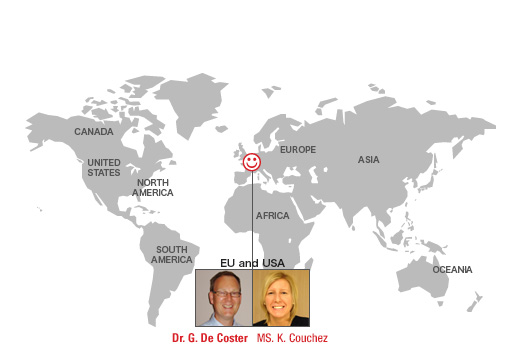 In order for the efficient management of production sites, all of manufacturing sites and R&D center are located in Japan. While taking advantage of manufacturing management within arm's length, Sumitomo understands the importance of face-to-face communication. Thus, Sumitomo's project and account managers interface with customers globally.
Of course, tele-conference/video-conference with customers in EU and US are frequently held to accelerate the communication between researchers.


EUROPE & USA
Sumitomo Chemical EuropeS.A./N.V.
Woluwelaan 57, B-1830 Machelen, Belgium
Phone: +32-2-251-0650
Fax: +32-2-251-2991
JAPAN
Sumitomo Chemical Co., Ltd.
5-33, Kitahama 4-chome, Chuo-ku, Osaka 541-8550, Japan

Pharmaceutical Chemicals Division
Marketing Dept.

TEL:+81-6-6220-3428 FAX:+81-6-6220-3416

From inquiry to delivery, one designated project manager takes care of your project. Researchers are invited to tele-conference with customers for smooth communication.
Here is the typical flow from inquiry to delivery.