Efforts of ESG
Dialogue with outside experts
2022 Round-Table Talk "Transforming Organizations through Human Resources DX"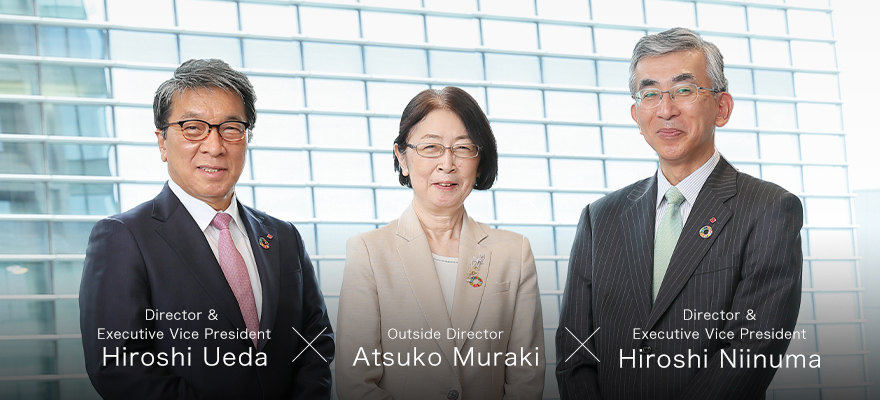 Outside Director Muraki, Vice President Ueda, and Vice President Niinuma discussed Sumitomo Chemical's efforts in both human resource and digital transformation (DX) strategies, as well as the current status and expectations for the future.
Transforming Organizations through Human Resources DX
Philosophy and evolution of human resource strategy "Visualization of HR policies" and "DE&I"
Niinuma Sumitomo Chemical is developing its human resources strategy with two things in mind: its unchanging Philosophy and its Evolution in step with the times.
The Sumitomo Group, which has been in existence for about 400 years, has a philosophy that "people are the most important management resource," under which successive general directors have spoken and practiced such principles as "seeking good human resources widely throughout the world," "treating and training employees fairly," and "linking the growth of people to the growth of the company." Sumitomo Chemical has carried on this origin in its more than 100 years of history, adhering to the philosophy of securing, developing, and utilizing human resources, its most important management resource. This is the key pillar of the current Corporate Business Plan: "Employ, develop and leverage human resources for sustainable growth." This is a theme that we will continue to work on not only during the current Corporate Business Plan period but also over the long term, and all of our human resource strategies are based on this steadfast philosophy.
Muraki In the past, most management concerns have been related to financial figures, but recently there has been a growing interest in human resource strategies, with approximately 60% of the Harvard Business Review's content being related to human resources. It can be said that the times have caught up with Sumitomo Chemical's long-held philosophy that "people are the most important management resource." In addition, I have specialized in the promotion of employment of women and employment of people with disabilities. "Seeking human resoureces widely" and "fair treatment and training" are very important principles from the perspective of diversity, and overlap with important themes that are currently in focus around the world.
I believe that continuing to value this and constantly checking it as it applies to today's society will lead to solutions to the problems at hand.
Niinuma As you say, even if the philosophy remains the same, it is important to reflect on whether our efforts are in step with the times. One of the pillars of the "evolution" of human resources strategy is diversity. Sumitomo Chemical has been promoting Diversity & Inclusion (D&I) in the past, but since last year, we have set up a system to promote it as Diversity, Equity & Inclusion (DE&I) for all group companies in Japan and overseas.
Creating global basic principles, DE&I has taken on the challenge of setting KPIs in each country, taking into account the unique circumstances of each country and other factors. Each country has different problems such as gender, age, race, etc. We will prioritize and address these issues on a company-by-company basis. Another "evolution" is the Sumika Take Action Declaration*, which declares the values and ideas that employees value in order to lead fulfilling professional lives.
We have established KPIs for action items such as work-life balance, development and growth, and work progress, and are working to visualize our HR measures.
The fact that we are working together with the labor union and health union to implement this program is a unique feature of our company. In addition, the Sumika Take Action Declaration includes the use of digital technology to promote work and accelerate growth, making digital an important key to the evolution of our human resources strategy.
Muraki We have group companies all over the world, and I think it is difficult for the entire group to work together on DE&I in the midst of different cultures. However, I believe that it will have a positive impact on the head office by allowing us to incorporate good practices from overseas into our domestic operations. It is also important to visualize personnel policies and set KPIs such as the Sumika Take Action Declaration. However, I consider that the three main factors that today's young generation and women look for in a job are: whether the job will benefit society and people, whether it will help them grow as professionals, and whether it will be fun and exciting. When setting and visualizing KPIs, I think it is important to create a system that can satisfy these elements. What is especially difficult is to enjoy the work.
Niinuma The latest employee attitude survey results show a relatively high level of satisfaction with working, but there are no items measuring "enjoyment" yet. The underlying motivation of employees is changing rapidly. I feel that this is a change in society as a whole, rather than something due to age, and I consider that companies need to be aware of the "enjoyment" perspective of their employees and make changes accordingly.
Ueda Regarding DE&I, this is also reflected in the DX promotion system that is currently being promoted throughout the company. Unlike conventional organizational theory, people who share the same motivation raise their hands, get together beyond the organization, and create a virtual organization. There is a growing movement to promote projects that leverage the skills and ideas of diverse personnel within the company.
Strengths in In-House Training of DX Human Resources Started DX Strategy 2.0 ahead of schedule
Ueda In 2017, Sumitomo Chemical held a scenario planning session with young employees to think about the future of our company, and in the course of the scenario planning, the two linchpins of decarbonized society and digital were put forward. This has been followed by the current GX and DX. With regard to DX, we called it DX Strategy 1.0 and worked to improve productivity in the four areas of Plant, R&D, Supply Chain Management, and Office, and achieved a certain level of success. I believe that a major factor in this success was that the frontline took the initiative in creating a DX-related education program and certification system and practicing employee education. The fact that we started from nurturing rather than a top-down approach is what makes DX unique to our company. Our historical background is the reason why we are able to develop DX personnel. Since the 1970s, we have had data analysis technicians at each of our locations, including the Tsukuba area, Ehime area, and our headquarters, and we have continued to hire and train personnel to carry on these skills. In the recent DX movement, we have connected those human resource networks and put in place a platform.
Muraki I have been involved in the management of several private companies, and when it comes to DX, many of the conversations start with where to hire people from. However, this was not the case with Sumitomo Chemical, and I used to wonder why, but now I finally understand why. It is a great advantage that the company already has DX personnel within the company and a base for further training and education. I was also able to participate in the DX Repository,* where on-site initiatives are presented, and it was clear that the field is thinking proactively rather than top-down. Above all, I was impressed by the fact that everyone seemed to be having a great time. The presentation of one method, DX, has given each of us a chance to think about what we can do, and I have high expectations that more and more interesting things are likely to happen in the future.
Ueda Thank you very much. In the current corporate business plan, we will furthermore start working on the DX Strategy 2.0 ahead of schedule. In addition to increasing operational efficiency and improving the sophistication of our various initiatives, the direction we are taking with DX Strategy 2.0 is to strengthen our competitiveness through data-driven management that focuses on how to connect with customers and suppliers - strengthening customer contact points and increasing customer satisfaction. Therefore, business units closer to customers and suppliers will take the lead in addressing DX issues according to the characteristics of their respective businesses. This is not a DX Strategy 2.0 that will be implemented after DX Strategy 1.0 has been completed, but rather a strategy that will be implemented in parallel.
Muraki You mentioned earlier that there has been an increase in the number of projects within the company that connect across organizational boundaries, and I believe that by extending such activities to our clients, and by connecting and collaborating with others in the same and different industries, we will be able to make proposals that meet and even exceed our clients' expectations.
Niinuma As for human resource development to promote DX, we will work to develop a target number of data scientists and data engineers, respectively. The main pillar of this is to inject new DX knowledge into employees who originally have domain knowledge of the chemical industry and train them in-house. At the same time, we will hire super specialists with highly specialized skills from outside the company and train all employees to be broadly digitally literate. We will balance intensive training and development, recruitment, and literacy education.
DX × Human Resources to Create a Chemical Reaction for an Even Stronger Organization and Company
Ueda The Digital and Data Science Innovation Department, which is at the core of our DX strategy, is bringing us new ways of working. For example, OODA. Observe ⇒ Orient (Orientation based on situational judgment) ⇒ Decide (Decision-making) ⇒ Act (Action) steps are rotated to visualize and manage work by all employees. Whenever there is a delay against a target, someone on the team immediately provides support, and the organization as a whole is making up for the delay. This is an agile way of working that differs from the traditional way of working in the chemical industry, a method that is truly in tune with the times. As we move forward with our DX strategy, I expect that new winds will blow into our company from the DX mindset, and that new human resoureces and skills will emerge from it.
Niinuma As professional life becomes longer and longer, it will be necessary to improve skills and reskilling to acquire new skills, not to stop at one skill. Digital literacy will be essential in this process. In the future, it will be necessary to connect with new jobs and people through data to create value, and I hope that all employees will use DX technology to expand their job areas.
Muraki From now on, I consider that a strong organization will be one that can think spontaneously about its work as a team, and can demonstrate its maximum strength. In addition, creating new value by adopting new things and connecting with different things is an important theme worldwide. Creating such chemical reactions in DX × human resources will lead to the strengthening of the organization and the company. To this end, it is hiring that will be important. When I attend meetings at Sumitomo Chemical, all discussions come down to "what is inside is still important." I love Sumitomo Chemical's unique character, but good content is a necessary condition, and it becomes a sufficient condition only when it can be communicated. Therefore, I feel that Sumitomo Chemical will become even stronger and more interesting in the future if we actively communicate our philosophy and mission and connect with good people and companies. In addition, when Sumitomo Chemical employees visited the university where I am a visiting professor as lecturers, many students were impressed by Sumitomo Chemical's attitude toward social contribution, saying that it had changed their view of the company. It is very important for the future of Japan that young people develop an image of their future career and an interest in science. I have high expectations for Sumitomo Chemical as a company that can contribute to the state of education in Japan and the development of human resources in the sciences.
Ueda / Niinuma As you said, we would like to increase opportunities to communicate to society and increase our fan base so that not only our employees but also society will want to engage with us. Thank you very much for your valuable talk today.
2021 ESG Dialogue "Sumitomo Chemical's Path to Carbon Neutrality"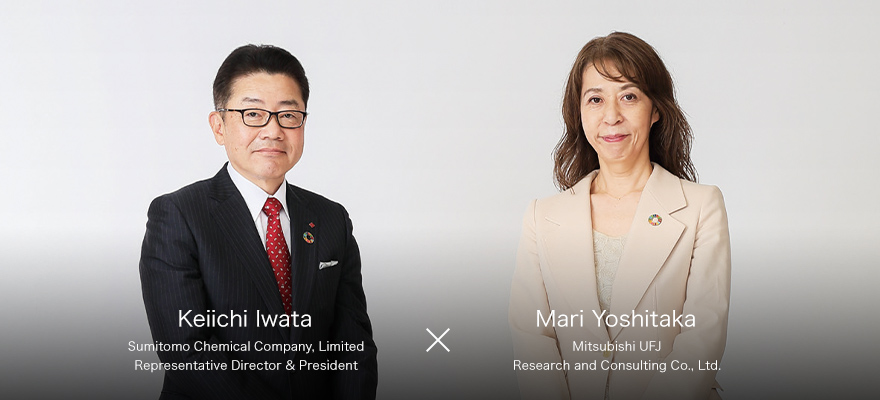 We welcomed Mari Yoshitaka of Mitsubishi UFJ Research and Consulting, who is a specialist on climate change issues and who has also worked on government initiatives, to a conversation with President Iwata about the Sumitomo Chemical Group's response to climate change and its path toward achieving carbon neutrality.
Sumitomo Chemical's Path to Carbon Neutrality
Initiatives to Address Climate Change and Carbon Neutrality
Iwata The Sumitomo Chemical Group views climate change as a pressing challenge facing mankind, and we have been working on a variety of initiatives aimed at resolving this issue for many years. Recently, many countries around the world, including Japan, have made a pledge to achieve carbon neutrality by 2050. It is clear, however, that carbon neutrality will be difficult to achieve with just existing technology and that innovation will be necessary. The chemical industry is at the forefront of innovation, and we would like to take the lead in this industry in creating innovation that will lead to a solution to this issue.
Yoshitaka Carbon neutrality by 2050 is quite a significant hurdle for the industrial sector. What sort of direction will you aim to achieve it?
Iwata We are proceeding in two directions, broadly speaking. First, we are aiming to reduce the amount of greenhouse gasses emitted by our production activities and business activities toward zero. We are positioning this as our obligation. The other direction is our contribution to advancement toward carbon neutrality for society as a whole through our products and technologies. We will work on both our obligation and our contribution, as we move toward carbon neutrality. To this end, in February of this year, we established the Carbon Neutrality Strategy Committee and the Carbon Neutrality Cross-Functional Team, creating a system for advancing our efforts toward carbon neutrality globally.
Yoshitaka The Task Force on Climate-Related Financial Disclosures (TCFD) calls for information disclosure from four perspectives: Governance, Strategy, Risk Management, and KPIs. We could say that your references to corporate obligation and contribution would fall under Strategy, as they are about how you view the risks facing your company, how you fulfill your responsibilities to address them, and how you grow as a company by contributing to society. In addition, ESG investors are particularly concerned about Governance. I think the fact that you have set up a global system will be rated quite highly in the respect of Governance.
Iwata Thank you very much for your positive comments. We are going to formulate and implement a strategy which is supported by scientific technology (based on both the natural sciences and the social sciences). At the same time, we will also ensure that that strategy is characteristic of Sumitomo Chemical, which is a diversified chemical manufacturer, and that it raises an expectation that Sumitomo Chemical might be able to achieve despite the high technical hurdles. Looking back, Sumitomo Chemical got its start by producing fertilizer from the gasses emitted from the Sumitomo family's copper smelters. It means that the Company was founded with a mission rooted in both the obligation to overcome environmental problems and the contribution to agriculture by supplying fertilizer. This history has an extremely close affinity to our current efforts toward carbon neutrality, and our spirit of working toward carbon neutrality is embedded in the DNA of every employee, so to speak.
Yoshitaka Environmental problems are no longer negative externalities, but are becoming a growth factor for companies. The very fact that Sumitomo Chemical has experience dating back to its founding in environmental initiatives raises our expectations that you might be able to achieve the goal of carbon neutrality.
Reducing Greenhouse Gas Emissions
Yoshitaka How will you approach to the reduction of greenhouse gasses your company emits, which you frame as your obligation ?
Iwata In 2018, we became the world's first diversified chemical company to receive certification from the Science Based Targets (SBT) initiative for reduction targets, and we have been working since then to achieve goals set based on the 2°C target in the Paris Accords. In line with these goals, we have achieved a reduction of about 20% in our Scope 1 and Scope 2 greenhouse gas emissions, from a baseline of 9.54 million tons in 2013 to 7.42 million tons in fiscal 2020. We achieved this by improving our business portfolio, through measures such as shutting down an ethylene plant in Chiba and replacing products with particularly high CO2 emissions. At the recent climate change summit, the Japanese government set a target of a 46% reduction compared to fiscal 2013 by fiscal 2030. To meet this new national target, we will reestablish our goals, in line with a target of well below 2°C, and we are now working toward reducing emissions by close to 50% compared to fiscal 2013 by fiscal 2030.
Yoshitaka The 46% reduction by fiscal 2030 expressed by the Japanese government will certainly have a significant impact, and it might lead to a transformation in the structure of industry. In these circumstances, it is quite impressive that you are realistically able to aim for a reduction of close to 50% by fiscal 2030.
Iwata Obviously it will not be easy, but we have built up our track record to the point that it is not an absurd number. This is quite an important point, and there are many companies that, even if they can say their goal is carbon neutrality by 2050, cannot say they will achieve a 50% reduction by 2030, because 2030 is coming right up. To achieve carbon neutrality by 2050, however, you will never make it in time if you start in 2045, for example. Accordingly, we are aiming for a reduction of close to 50% by 2030 and taking every measure as early as possible to deliver results and make steady progress. Now let me give you an overall picture of Sumitomo Chemical's greenhouse gas emissions. In the chemical industry, we apply energy to raw materials in the form of electricity or heat from steam to promote chemical reactions, converting the raw materials into products. Of our 7.42 million tons of greenhouse gas emissions, about 70% of that is energy-derived, broadly speaking, while about 30% is process-derived, generated by chemical reactions and waste processing. Currently, the steam that is the primary heat source of chemical plants is generated using fossil fuels, so we will consider electrifying all of our steam generation, presuming that we will use electricity derived entirely from renewable energy sources in the future. This will require a great deal of innovation.
Yoshitaka I am so impressed to hear that you are heading in the direction of full electrification. Shifting to renewable energy sources is not something that can be easily done by a single chemical company on its own in Japan, so I am sure that it will be an extremely difficult decision to first proceed with electrification, assuming that the electricity will be derived from renewable sources in the future.
Iwata If we do not presume a shift to electricity derived from renewable sources, achieving carbon neutrality in the manufacturing industry will be extremely difficult. At the same time, for the process-derived emissions, we will need to aim for zero emissions through the use of carbon negative technologies, such as carbon capture, utilization, and storage (CCUS).
Yoshitaka The path you have laid out toward zero greenhouse gas emissions for your company is extremely easy to understand, and I think it will resonate with ESG investors.
Technology Unique to Sumitomo Chemical
Yoshitaka The government has created the Climate Innovation Finance Strategy in order to promote investment in companies that are working on innovation aimed at significant greenhouse gas emissions reductions or a steady transition in response to climate change. To take advantage of this opportunity, it is indispensable for a company to promote specific technologies that can catch the eyes of ESG investors and bring in funds. What sorts of technologies does Sumitomo Chemical have in this regard?
IwataFirst, we have the products and technologies that have been designated as Sumika Sustainable Solutions*, and among them there are several that contribute to mitigating or adapting to climate change. Some examples of products that contribute to reducing greenhouse gas emissions include methionine, an animal feed additive that can reduce the amount of nitrogen in livestock waste, and separators for lithium-ion secondary batteries, which are used in electric vehicles. The number of the products and technologies designated as Sumika Sustainable Solutions has reached 57, and the total annual sales of these solutions now amount to around 500 billion yen. While we are making a contribution through these products and technologies, we are working on the development of a number of new technologies. We are focusing on carbon cycle technologies by capitalizing on our expertise as a chemical company, and in particular, we place a high priority on chemical recycling, which is sometimes called the ultimate form of recycling. We are working together with a variety of companies, universities, and public bodies to develop these technologies. For example, we are collaborating with SEKISUI CHEMICAL on technology to manufacture ethylene from municipal waste, with the Muroran Institute of Technology on technology to manufacture olefins from plastic waste, and with Shimane University on technology to synthesize methanol from plastic waste and other sources.
Sumitomo Chemical Group products and technologies that contribute to response to climate change, reduction of environmental impact, and effective use of resources.
Yoshitaka In addition to climate change, ESG investors are particularly concerned about biodiversity. Chemical recycling enables us to recycle plastics and other waste in a closed loop and prevent them from being disposed of elsewhere, so it can reduce our impact on the natural world, and thereby contribute to biodiversity as well as climate change.
IwataChemical recycling is an area where we can leverage our technology. We would like to accelerate research and development in this field going forward. I touched on CCUS technology earlier, which consists of both technology to selectively capture CO2 and technology to convert CO2 into chemical products. In the first area, we are currently developing a low energy, high efficiency CO2 separation technology using functional membranes, and in the second area, we are working on the development of methanol synthesis technology with Shimane University as I mentioned earlier. We are also engaged in a joint project to develop technology that can replace the fuel for naphtha cracking with ammonia. Finally, direct air capture (DAC) has received a lot of attention as the ultimate carbon negative technology, but the massive energy and cost requirements are an issue. This is why we focus on plants, and we are currently developing EcoDAC, a set of technologies that utilize the ecosystem. As an example of EcoDAC, there is a technology that increases the amount of CO2 absorbed by plants by applying a type of fungus to the soil to activate plants. If we could use this to increase the amount of CO2 absorbed by existing plants by 10%, we would be able to contribute to reducing CO2 by massive amounts, more efficiently than reforestation. This is an area where we can fully capitalize on insights from our crop protection products and fertilizers. We are currently in the experimental phase with this technology, and scientific data collection is currently underway at an American university.
Yoshitaka That's very interesting. From the perspective of focusing on plants, the CDP also views forest-related information disclosure as an important issue, perhaps we could say even as important as biodiversity, so I absolutely hope you will work on this as a pioneering business. You have clear stories for all of the technologies I have heard about from you to this point, and they are also all connected to your value chain. One of the points ESG investors focus most on is whether top management can present a strategic narrative about their company. You have a clear story for your strategy, and I hope you present it in a way that makes its appeal easy to understand.
Expectations of Sumitomo Chemical
Yoshitaka Hearing about Sumitomo Chemical's response to climate change and your strategy for carbon neutrality has raised my expectations quite high. I have gotten the impression that achieving carbon neutrality by 2050 is not just words, it is something that I can envision in reality. While there are some companies whose mindsets do not really change, I would hope that Sumitomo Chemical not only takes the lead in the chemical industry, but becomes a leading presence in the industrial sector as a whole.
Iwata Carbon neutrality is not something that will ever be achieved just by aiming for it. We will continue to show steady progress toward carbon neutrality by 2050, based on a strategy that is supported by science and is characteristic of Sumitomo Chemical. Thank you for speaking with me today.
2021 ESG Dialogue "Sumitomo Chemical's Governance Continues to Evolve"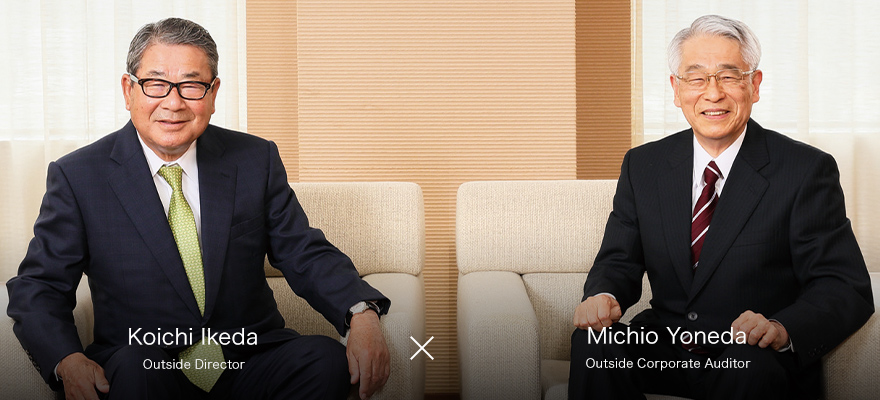 Koichi Ikeda, one of Sumitomo Chemical's Outside Directors, and Michio Yoneda, one of the Company's Outside Corporate Auditors, were asked to speak about their evaluation of the current state of Sumitomo Chemical's governance initiatives and about issues going forward.
Sumitomo Chemical's Governance Continues to Evolve
Converting the Board of Directors to a Monitoring Board
Ikeda I became an Outside Corporate Auditor for Sumitomo Chemical in 2011, and an Outside Director in 2015. Looking back on a decade as an outside executive, I feel that Sumitomo Chemical's corporate governance has been steadily evolving. One major turning point was the fundamental changes made to the way the Board of Directors operates in October 2015. Previously, emphasis had been placed on decision-making functions and voting on legal matters, but the scope of the Board's decision-making was narrowed down, and its monitoring and auditing functions were expanded. That was a period when moves to strengthen governance grew more active across the entire economic sphere, was it not?
Yoneda In Japan, a new corporate governance code was established by the Financial Services Agency and the Tokyo Stock Exchange in June 2015. At the time, I was involved in the running of the Tokyo Stock Exchange, and the background to the formulation of this code was a recognition of the necessity of improving the ability of Japanese companies to generate profits in coordination with the government's growth strategy, in order to boost the Japanese stock market out of the doldrums it had been in for the past quarter-century, and therefore the necessity of enlivening boards of directors by incorporating diverse views from outside executives. There were also several scandals involving major companies at that time, and criticisms of the governance of Japanese companies from overseas investors was increasing.
I became an Outside Corporate Auditor in September of 2018, but I felt that, in light of the intent of the corporate governance code and its own state as a company, Sumitomo Chemical has pursued a very grounded transformation. If the position of monitoring and auditing is too widely separated from the execution, then the Board of Directors will also not be able to fulfill its function as a monitoring board. Sumitomo Chemical has expanded the number of items that are reported (the amount of information provided) to outside executives, and as a result, meetings of the Board feature questions and insights from the diverse perspectives of the outside executives, resulting in extremely rich discussions.
Ikeda Broadly speaking, the information gap with outside executives can often become an issue, but at Sumitomo Chemical, we have opportunities to get our hands on a lot of different information. Explanations relating to agenda items in advance of meetings of the Board are naturally provided, but Sumitomo Chemical also provides rotating reports* from not just business units, but also administrative units, covering the broad range encompassed by diversified chemistry. In addition, we have had opportunities to visit company facilities, including not only visits to plants in Japan twice a year, but also past visits to local Group companies in South Korea and Saudi Arabia. To be frank, I think that in the past, the boards of directors of many companies had become ceremonial, including Sumitomo Chemical. The number of Outside Directors at Sumitomo Chemical has now been expanded to four (including one woman), making for a highly effective Board of Directors with lively exchanges of views. The time required for meetings of the Board, which once could be finished in under thirty minutes, now often reaches as long as three hours.
Rotating reports: Comprehensive, systematized reports with a sizeable amount of time set aside for each sector.
Repeated Discussions to Ensure Healthy Risk-taking for Businesses
Yoneda In order for outside executives to contribute to strengthening governance, it is extremely important for management to understand the role of outside executives. It is only when management and outside executives have a deeply rooted relationship of trust that they can have candid discussions. Each year, when assessing the effectiveness of the Board of Directors at Sumitomo Chemical, we do not simply listen to the report, we hold repeated discussions about it. I think these discussions are extremely sincere, and the assessment of effectiveness has taken root as part of the company's culture.
Ikeda As you say, without understanding from management, the views of outside executives just become so much noise. Sumitomo Chemical has expanded our opportunities for communication with outside executives, but this is because there is already a relationship of trust with management. For example, last year, at our request, space was created for outside executives to have small-scale informal meetings with the President and Chairman. Based on my own experience of being involved in management, I have proposed the creation of space for frank exchanges of views with management about issues of concern we have as outside executives, before bringing them up as topics of discussion in a board meeting. In recent years, Sumitomo Chemical had several large-scale projects, including major acquisitions and the Rabigh Phase II Project in Saudi Arabia. Outside executives have a monitoring and auditing function, but I think an important role for us is not just in criticism, but as cheerleaders for Sumitomo Chemical, boosting the Company's business through repeated discussions of healthy risk-taking aimed at future growth, not bound by the chains of the past. The major acquisitions in the Health & Crop Sciences business and in the Pharmaceuticals business were important projects that could become central pillars of the Company's business in the food supply and healthcare fields, important fields where the Company ought to focus its efforts in the medium and long term, and we discussed these projects thoroughly in meetings of the Board, including the financial side of things. The reason that outside executives with diverse expertise were able to fulfill their function in these projects was because Sumitomo Chemical has the character necessary to take in insights from the varied perspectives of outside executives, and reliably convey those insights to management and the employees on the ground.
Yoneda As you have said, the true role of the Board of Directors is to create an environment where management can take appropriate risks with regard to important projects that will lead to the growth of the company. We are told that governance reform equals employing the monitoring and auditing function of boards of directors, but governance is not the goal, it is a method for management to advance business and thereby grow the company. At Sumitomo Chemical, we all participate in discussions, whether we are Directors or Corporate Auditors, but we Corporate Auditors in particular can speak to risk management, which provides support for risk-taking.
The Goal of Governances is not Structure, but the Pursuit of Effectiveness
Ikeda Sumitomo Chemical is a Company with a Board of Corporate Auditors, but outside Japan, it is more common to have an auditing committee, rather than a board of auditors, as is sometimes seen in Japanese companies with multiple designated committees, such as nominating committees, or companies with audit and supervisory committees. As an Outside Director, I have experience with both types of governance, but it is not necessarily the case that governance will go smoothly if you just switch to a nominating committee or an auditing committee. What is important is not the structure, but strengthening the substance of governance in accordance with a company's characteristics. In the case of Sumitomo Chemical, which pursues synergies between multiple businesses as a diversified chemical manufacturer, by having executive officers who are intimately familiar with the business simultaneously serve as members of the Board, the company is able to utilize its structure as a company with a Board of Corporate Auditors, where auditors can oversee management with significant authority, to strengthen governance in a substantive way. Personally, I feel that for companies like Sumitomo Chemical, which pursue business in an extremely diversified way, it is important for outside executives to exercise their monitoring and auditing functions while getting close with management as a cheerleading team.
Yoneda Major Japanese companies can choose between three different governance systems*, and I have experience with all of them. Each has its strengths and weaknesses. The choice should not be made based on which is best, but based on a consideration of the actual circumstances of the company's management, and regardless of system, companies need to continue their efforts to strengthen governance. To put forward some benefits of a company with a Board of Corporate Auditors, from my own position as an auditor, I think two benefits are that the Board of Corporate Auditors is an independent institution from the Board of Directors, and that it ensures auditor's ability to gather information because the various Corporate Auditors all have independent authority to audit the company. These are both indispensable elements in enabling the auditors to substantively exercise our functions as Corporate Auditors. In the case of Sumitomo Chemical, the Company is fully utilizing the benefits of being a company with a Board of Corporate Auditors, while at the same time creating a system that enables both the Board of Directors and the Board of Corporate Auditors to fully function by strengthening the monitoring and oversight functions of the Board of Directors in light of the Corporate Governance Code. Because this system of companies with Boards of Corporate Auditors is unique to Japan, overseas investors have expressed the opinion that it is difficult to understand, but in that case it is possible to simply explain the system, so I do not think we need to simply align ourselves with the systems used in Europe and the US, but rather pursue the original goal of effective governance.
Companies with a Board of Corporate Auditors, companies with an audit and supervisory committee, and companies with multiple designated committees (such as a nominating committee).
Ikeda I agree. I think a lot of Japanese companies, not just Sumitomo Chemical, take the attitude that "as long as we are making a sincere effort, they will understand," but in a sense, that just means that they are not very good at public or investor relations. When we try to expand our businesses globally, explaining things in a way that those outside the company can understand easily, including explaining about our governance systems, becomes an important part of our job.
The Future of Sumitomo Chemical's Governance
Ikeda As a result of actively investing outside Japan, revenue from outside Japan now makes up more than 60% of our income. In light of this, we are putting more effort into the governance of Group companies outside Japan, and I think further strengthening these efforts will be one of the most important issues for Sumitomo Chemical going forward. At Sumitomo Chemical, we receive reports relating to Group companies from a variety of perspectives, but it is also the case that risks in Group companies outside Japan are relatively high. In order to strengthen our countermeasures, I think it will be important to incorporate diverse perspectives with respect to our governance somehow, rather than just managing things with Japanese ways of thinking.
Yoneda I think the importance of initiatives to address the SDGs has permeated society as a whole. Sumitomo Chemical is already undertaking a variety of initiatives to resolve issues in society, such as climate change, but for investors, there are still some parts that are difficult to see. Clearly explaining the details of these initiatives to the market and to stakeholders is also an important issue in governance. We need to improve governance not just with respect to the initiatives themselves, but also from the perspective of communicating about them.
Ikeda In recent informal meetings with just the President, Chairman, and outside executives, I took the opportunity to once again point out the importance of taking healthy risks with regard to how our initiatives to create a sustainable society were being applied in our businesses, and not just treated as social contribution activities. I hope that as we as outside executives continue to share our views going forward, Sumitomo Chemical will examine and steadily expand its efforts to address the SDGs along multiple fronts.
Yoneda As the times and the business environment continue to change, we ourselves will also need to change in order for the company to continue to grow. I think, however, that our participation as outsiders in these discussions may probably make it easier for the company to change, rather than debating things entirely internally. As an Outside Corporate Auditor, I hope to support those in management who actually implement these measures in taking appropriate risks from a risk management perspective, promoting healthy changes and thereby supporting the growth of Sumitomo Chemical.
2020 ESG Round-Table Talk "Sumitomo Chemical's Continually Evolving ESG Management"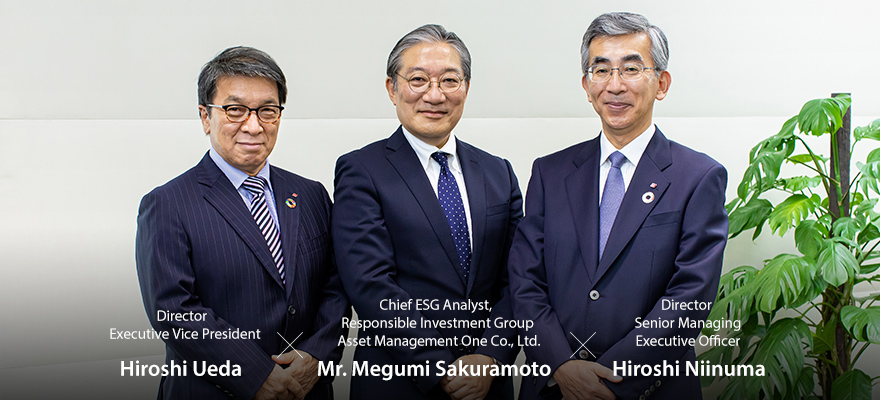 We welcomed Mr. Megumi Sakuramoto, Chief ESG Analyst for Asset Management One Co., Ltd., for a roundtable discussion about the Sumitomo Chemical Group's continually evolving ESG management, and its response to changing times.
Sumitomo Chemical's Continually Evolving ESG Management
Sumitomo Chemical's Way of Thinking about ESG
Niinuma First, I would like to give a brief explanation of Sumitomo Chemical's way of thinking about ESG. We are working to bring about sustainability in accordance with our Basic Principles for Promoting Sustainability, and the basis of these principles is our way of thinking about creating shared value. Part of the Sumitomo Spirit is the idea that "our business must benefit society at large, not just our own interests," or in other words, the idea that Sumitomo's businesses must contribute to the nation and society while also contributing to its own interests. Moreover, our company was founded in 1913 with the goal of resolving an environmental problem and increasing agricultural production. Our origins as a company are truly founded on creating shared value.
Sakuramoto I really like "our business must benefit society at large, not just our own interests" as part of the Sumitomo Spirit. It really accords with the modern idea of creating shared value. When I have engaged with your employees, I have truly felt that this spirit permeates your company.
Niinuma Thank you very much. I would like to share a few representative accomplishments that show our stance as a company on these issues. The Olyset Nets developed by our company were recommended by the WHO in 2001 as insect repellent mosquito nets that are an effective countermeasure for malaria in Africa. This is a hybrid product, combining petrochemical technology and agrochemical technology, and it has saved many people from losing their lives to malaria. Moreover, we are also working to support education, with a portion of the sales of the nets going to build schools in Africa. In addition, we established a company to produce Olyset Nets in Tanzania, creating employment opportunities for about 7,000 people. In this way, we have created a business cycle that promotes disease prevention, education, and employment, working to resolve issues in society in an integrated way. We have received an extremely positive response to this initiative, including being invited to participate in the United Nations Private Sector Forum in 2016. I feel that this illustrative example, of contributing to preventing the spread of malaria in a major way, is a sign of the progress the Sumitomo Chemical Group has made in ESG.
Sakuramoto That is a good example of how a business created from Sumitomo Chemical's technology can lead to the resolution of issues in society.
Response to the Problem of Climate Change
Sakuramoto I think that Sumitomo Chemical's initiatives in response to climate change are fairly advanced relative to other companies in Japan. You signed on to the TCFD very quickly, and you have been actively spreading the word about the amount that your products and technologies designated as Sumika Sustainable Solutions (SSS), which can contribute to reducing environmental burdens. My honest impression is that this is amazing. Moreover, your active efforts have been extremely well received, such as when you were the first diversified chemical company to obtain recognition from the Science Based Targets (SBT) program for your targets in 2018. I do not think there has been such a proactive company. You have used the technical capabilities cultivated as a diversified chemical manufacturer to seriously face these societal issues. The extent of your sincerity is clear to investors.
Ueda Seeking SBT recognition was something we at the top of the company had been continually discussing and pushing, and we expressed our commitment to reducing Group-wide greenhouse gas emissions by 30% by FY2030, and more than 57% by FY2050, both relative to the levels for FY2013. To be honest, this will be quite technically challenging. These are targets that we will not be able to achieve without being prepared to comprehensively transform the productivity of our plants, such as updating our boilers to new, highly energy efficient models, for example. Employees are putting forward ideas and working hard to make these big improvements.
Sakuramoto Are your suppliers also collaborating with you on your Scope 3 goals?
Ueda Beginning with the briefing where we announced the targets, we have been in constant contact with our suppliers, offering explanations and having discussions. We feel that they have taken a positive stance, but setting specific reduction targets is still an issue for the future.
Response to the Waste Problem
Sakuramoto With regard to the waste problem, I think you are taking extremely proactive steps. You have participated in the Alliance to End Plastic Waste (AEPW) as a founding member since January 2019. It could be said that taking proactive steps to address the waste problem is a natural extension of your responsible care activities as a chemical company, but there is a great deal of concern for this issue around the world, and I personally think very highly of that initiative, and I am interested in where it goes.
Ueda Thank you very much. I would like to explain a little bit about our response to the plastic waste problem. As part of an effort to "reduce," one of the three Rs of recycling (reduce, reuse, recycle), we have reduced the thickness of food packaging materials, for products such as food sold in retort pouches. This means that we can reduce the amount of plastic used. As for "reuse," we have increased the number of products aimed at reusable applications, such as using plastic boxes (returnable box) in place of cardboard boxes. Finally, for "recycle," I think that chemical recycling is very important. This means using chemical reactions to convert waste into basic raw materials, and using catalyst technology to recycle things without using energy. As part of this effort, we are collaborating with Sekisui Chemical to develop technology to convert municipal waste to natural gas, and then convert that to ethanol, and use that to manufacture polyolefins. We are also working with the Muroran Institute of Technology to develop technology to chemically break down waste plastics and reuse it as a raw material for petrochemical products. By promoting chemical recycling, we can reduce both the amount of petroleum resources we use and the amount of waste plastic we generate, and we hope to contribute to the creation of a sustainable society thereby. We would like to communicate that these activities are grounded in technologies developed in Japan.
Sakuramoto It sounds like you are undertaking a wide range of activities. I think that your collaborations with the outside parties you mentioned are extremely valuable initiatives. I think it is wonderful to use open innovation to build win-win relationships.
Initiatives to Integrate Management and Sustainability Promotion
Niinuma In our sustainability promotion, we feel that systems and intentions are very important. For systems, we expanded the existing CSR Promotion Committee in April 2018 to create the Sustainability Promotion Committee. Then in March of 2019, we defined seven material issues for management to focus on. As part of the process of making that definition, we held a number of management meetings with tumultuous discussions. At the end of that, we felt that, while the definitions we had come up with were certainly not perfect, we had better just take the decisions and start promoting sustainability initiatives, so we announced the material issues, and we have now reached the point of setting KPIs for those issues.
Sakuramoto I think that Sumitomo Chemical's systems for promoting sustainability have become easier for those of us on the outside to understand as well. I think that the seven material issues you defined were extremely well prepared. A number of companies have identified so many issues as important that investors often do not know which ones actually matter, so I think narrowing the issues down to seven is very good. Moreover, you have linked the material issues with your businesses, and I also appreciate your stance of generating future cash flow. I would like to say, though, that going forward, I hope that you will make your disclosures of KPIs more complete, and aim for information disclosure that more clearly conveys an understanding of your management and your awareness of the PDCA cycle.
Niinuma On the disclosure front, we would like to improve things. Next, to touch on intentions, we place a particularly high value on employee participation. In 2016, we created the Sustainable Tree website. It is a site where individual employees can submit messages about how they want to contribute to our Group's sustainability efforts, and how they want to contribute to the world more generally. In 2019, we had about 12,000 submissions, which I feel shows that our various Group employees are beginning to view the promotion of sustainability as a personal issue.
Sakuramoto I understand that the motivation of your employees is extremely high. I look forward to seeing this attitude embed itself even more deeply within the Group as a whole.
Future Issues and Expectations
Sakuramoto Going forward, what I am looking forward to from Sumitomo Chemical is a presentation on your long-term vision. I think it is very difficult to give a long-term vision by forecasting technologies and needs more than ten years in the future. I would, however, very much like to see you put forward a long-term vision, and take on the challenge of working backwards from that vision to lay out some management strategies and ESG policies.
Ueda As you say, we have not clearly laid out our long-term vision. Under our current Corporate Business Plan, we are analyzing trends on the technology front, but we are not yet at a point where we can envision the situation ten or twenty years in the future and lay out a direction for the company in a format that we can show to the public. I think this is an issue we will be discussing more going forward.
Sakuramoto Please do. I would also like to raise two more issues facing Sumitomo Chemical. The first is that evaluations of ESG initiatives are not being reflected in executive officers' compensation. This has a high possibility of limiting executive officers' involvement in ESG, which has no immediate effectiveness in terms of improving corporate value. As part of your implementation of the idea of creating shared value (CSV), measures of this initiative are reflected in compensation for senior management*, but I think that expanding this to a broader range of executive officers would have the effect of improving corporate value over the long term.
Niinuma Actually, it is included as an element in compensation for Executive Officers outside of senior management. As you point out, however, we have not disclosed this outside the company, so that is another area where I think we have some work to do.
Sakuramoto Thank you for saying that. This is something investors will also want to hear, so I hope you will convey this to outside parties in a way that is easy to understand. The other issue is the promotion of diversity within the Board of Directors. From the perspective of improving corporate value over the medium- to long-term, it is of course important for members of the board to be qualified, but I hope you will promote diversity in the Board of Directors as much as possible. Currently, there is only one female director, so I think it may be difficult to make progress with diversity as things are.
Niinuma It is as you say. We have identified this as an important issue, and set it as a KPI, so we will be working on it diligently. We are planning to develop talent from within, expanding the pool of candidates, including by increasing the number of female heads of departments and offices, and thereby increase the effectiveness of our efforts.
Sakuramoto While there are relatively few women due to the characteristics of chemistry as an industry, I think it is important to develop talent within the company.
Ueda I would like to thank you very deeply for your valuable insights today. I think we were able to have an extremely good discussion about our efforts. Going forward, we would like to continue to work on initiatives that incorporate the insights you have given us today, and work to ensure our disclosure of information is more complete.
Sakuramoto I look forward to seeing the spirit of "our business must benefit society at large, not just our own interests" continue to be thoroughly embraced and upheld at Sumitomo Chemical. Thank you for meeting with me today.
Senior management means Executive Officers above Senior Managing Executive Officer, and Managing Executive Officers who are immediately under the President, supervising certain functions.

Mr. Megumi Sakuramoto
After working for Pacific Consultants International, Megumi Sakuramoto joined Yasuda Trust Bank (currently Mizuho Trust & Banking) in March 1990. He undertook operations work as a fund manager and analyst in the Pension Operations Department. Starting in October 2013, he worked as a corporate investigator as part of the Mizuho Pensions Research Institute until taking up his present job in October 2016. He has been a part of investigative committees for the Ministry of the Environment, including for such topics as environmental information and corporate value and evaluating environmentally sustainable corporations, as well as a member of a working group setting up a business to create a platform for disclosing environmental information. He primarily prepares reports such as Promoting ESG through Engagement (Securities Analysts Journal, January 2018). He is a member of the Certified and Accredited Meteorologists of Japan.
2019 ESG Round-Table Talk "Corporate Governance that Supports Evolution in Business Strategy"
Masakazu Tokura, who was appointed Chairman of the Board in April 2019, welcomed two of Sumitomo Chemical's Outside Directors, Koichi Ikeda and Hiroshi Tomono. They reviewed the previous Corporate Business Plan and frankly discussed expectations and challenges for the new Corporate Business Plan, as well as the evolution of corporate governance and the election of a new President.
Corporate Governance that Supports Evolution in Business Strategy
Corporate Business Plan Phases 1 and 2: Producing Steady Achievements
Tokura Mr. Ikeda and Mr. Tomono, you were both appointed to be directors in June 2015. Mr. Ikeda, you have provided guidance for nine years since your appointment as a corporate auditor in June 2011, and Mr. Tomono, you have provided guidance for five years.
Ikeda When you became President, Mr. Tokura, the top priority was to enhance financial strength. At that time, new businesses and growth strategies were prevalent in many Corporate Business Plans. However, Sumitomo Chemical's first priority was to improve its financial position, and it was able to steadily achieve this goal. As a result, I believe this was the best strategy.
Tomono I joined the discussion of the Corporate Business Plan starting in Phase 2. I think the most outstanding part of Sumitomo Chemical's Corporate Business Plan is that it is a combined plan over a period of nine years (3 Phases of three years each). We have decided on priorities every three years with continuity and without disruption, and have produced results for Phase 1 (FY2013-FY2015) and Phase 2 (FY2016-FY2018).
Ikeda Phase 1 has achieved dramatic results, prioritizing enhancing financial strength, and Phase 2 has upgraded our portfolio from bulk chemicals to specialty chemicals. The Energy & Functional Materials Sector appeared to be a bunch of different businesses thrown together when it was launched in 2015, but has grown tremendously over the three years of Phase 2. I once again felt how important it is for companies to set out ideas not only using words, but also by first creating a model in this way.
Tokura When we decided to launch another business after the IT-related Chemicals Sector, we considered what businesses we should undertake. We have reached the conclusion that energy and the environment will be the main sources of our business. In response, we created a box for the 'Energy & Functional Materials Sector,' and presented a vision of nurturing and developing businesses in this sector. The IT-related Chemicals Sector and the Energy & Functional Materials Sector have steadily expanded their business scale thanks to the efforts of employees on the ground, although they are still in the process of development.
Improved the Effectiveness of Governance
Tomono So far, we have withdrawn from some of our businesses. As a manager, I have experienced this many times, but it is still difficult in a variety of aspects, including cost and employment. This is why it is important that we have organized processes that are acceptable not only to the Board of Directors, but also to the front-line employees who have worked so hard.
Ikeda In this sense, I have a strong impression of withdrawing from the DPF*1 business. Over the years, Sumitomo Chemical's corporate governance has evolved, and the Board of Directors has begun to actively discuss business risks. I believe that DPF was the first case where the business sector's report, which is the basis for discussion, was a good deal more candid.
Tokura We withdrew from the DPF business in November 2017, but we had begun the 'Rotation Report'*2 system before then, in fiscal 2015. In fiscal 2016, the Board of Directors began reporting on issues discussed at the Management Meetings and other internal meetings, and it may be said that improvements to fill gaps in information for both inside and Outside Directors have been effective.
Tomono Since fiscal 2018, in addition to reporting on the points discussed in the Management Meeting, we have also been talking about the background and context, such as how the original plan changed as a result of the discussion. After understanding that, members of the Board of Directors can decide whether to enter or exit the business.
Ikeda We have introduced a series of measures to revitalize the deliberations of the Board of Directors by incorporating requests from Outside Directors. Monitoring of business execution has also become much easier.
Expectations and Issues for the Corporate Business Plan Phase 3
Tomono Regarding Phase 3 (see p.20), even as Outside Director, we received frequent reports starting from the development stage. I feel that this plan was thoroughly discussed within the company, in light of your confidence from succeeding with Phase 1 and 2, and what you have learned from failures. What should be done is well crafted, so the remaining issue is how we should do it. Because the circumstances surrounding Phase 3 are quite different, it is not possible to draw on previous successful experiences. Therefore, it is vital that we not be led astray by past successes, and that we do not focus too much on self-reliance, but rather make good use of external resources.
Tokura It is exactly what you pointed out. However, this is easy to say but difficult to do. It is very difficult to change familiar work methods and ideas. Therefore, in order to begin by building a model here as well, we are rapidly moving forward, setting up an Innovation Ecosystem with various startups, and creating innovation centers overseas. Through these initiatives, we aim to accelerate the creation of next-generation businesses.
Tomono Another key element of Phase 3 is improving productivity through digital innovation. This involves raising the productivity of plants or improving the efficiency of work in internal departments, and I believe that promoting this in a broader and deeper context will lead to better results.
Tokura We understand that. First, we will build a solid data foundation with our existing assets at the core—our organizations and personnel in computational science and process safety engineering—and use that to improve productivity. We included this in our basic policy with the intention of starting from here. Neither the Innovation Ecosystem nor digital innovation will be finished in the next three years, but it is time-consuming so I would like to do it by trial and error, prioritizing speed.
Diesel particulate filter (DPF):
Aluminum titanate particulate removal filters for diesel engines. Sumitomo Chemical had manufactured and sold DPF since September 2011. However, we judged it difficult to secure stable earnings over the medium to long term, and announced our withdrawal in November 2017.
Rotation Report:
Comprehensive and systematic reporting over a significant amount of time for each sector.
Selected the Next President with Transparency and Objectivity
Tokura In April this year, I was appointed Chairman of the Board, and Mr. Iwata was appointed to be the new President. We have a non-mandatory Nomination Advisory Committee, which consists of six members: all four Outside Directors, the Chairman of the Board, and the President. In deliberations by the Nomination Advisory Committee, you both actively participated in the discussion.
Ikeda For most companies, the Nomination Advisory Committee and the Remuneration Advisory Committee are still non-mandatory. Moreover, there are still few examples of committees functioning effectively. This is the first time at Sumitomo Chemical that the Nomination Advisory Committee, which includes Outside Directors as members, has considered and selected the new President. This is groundbreaking and deserves praise.
Tokura Sumitomo Chemical appoints a President by spending plenty of time deliberating matters in the Nomination Advisory Committee, which then advises the Board of Directors. In order to make deliberations by the Nomination Advisory Committee meaningful, it is necessary for the members of the committee to look in advance at potential candidates for the position of President. Therefore, from an early stage, Sumitomo Chemical has worked to increase the number of opportunities for potential candidates to talk with Outside Directors who are members of the Nomination Advisory Committee. This has meant that, where possible, we have had executives below the level of managing executive officer report to the board—in other words, executives who could be candidates to become directors.
Ikeda I believe that transparency and objectivity are required of the Nomination Advisory Committee. The appointment of a new president, at least from the standpoint of outside directors, tends to be sudden, but Sumitomo Chemical took a considerable amount of time on this occasion. I think the selection process was reasonable.
Tomono I think that taking our time and going through necessary processes helped to increase the transparency of our processes and foster a sense of acceptance among the people involved. As for the content of the deliberations, the next President's qualifications were central.
Tokura Yes. Amid the dramatic changes in the business climate, we have focused on examining what qualities are required of the next President. As a result, we all agreed that bold and precise leadership and decisive action are required to lead the company, and discussed several candidates based on this common awareness. We are a company that operates in the diversified chemical field, which has a wide range of businesses. The next President was expected to have the ability to formulate a vision and make proposals regarding what kind of company Sumitomo Chemical aims to be in the future. Furthermore, we are a company with manufacturing, sales, and research functions supported by a large number of employees, both in Japan and overseas in various regions. The next President would need to be a person with the qualities and abilities, including character and insight, to lead this sort of organization. As a result of deliberations from these perspectives, we concluded that Mr. Iwata was the best candidate for the next President, and as a Nomination Advisory Committee, we advised the Board of Directors to this effect. The Board of Directors then resolved and finalized the decision.
Tomono During this series of processes, Mr. Ikeda and I have thoroughly communicated our experiences as presidents, despite the fact that our industries and business formats differ from those of Sumitomo Chemical. In that sense, I believe that we have fulfilled our role.
Future Expectations for Sumitomo Chemical
Ikeda The chemical industry—and this may be true of the diversified chemical industry in particular—is not highly valued by the stock market. I expect the new President and Chairman of the Board, under the new structure, to undertake activities which further expand the strengths and benefits unique to a diversified chemical company, and activities which grow the pesticides and pharmaceuticals businesses.
Tomono I believe that we are currently in the process of starting to think about the next 100 years. As the pace of change in the business environment is accelerating, if we imagine what Sumitomo Chemical would like to be 80 years from now, or in other words, around 2100, instead of 100 years, we could lead to concrete business growth in the sense that you mentioned, Mr. Ikeda.
Ikeda Looking at Sumitomo Chemical, I feel that companies are established on the history and assets that people have built. Speaking to globalization, over the years, we have been expanding overseas in a way that is closely linked to local communities. I believe that this kind of foundation enables us to consider the next stage of our growth.
Tokura Sumitomo Chemical has passed on its philosophy, in the form of the Sumitomo Business Principle, "Our businesses must benefit society at large, not just our own interests. (Jiri-Rita Koushi-Ichinyo)" which emphasizes the importance of earning the trust of society, for about 100 years since its founding. We aim to realize sustainable growth by addressing societal issues by making the most of our three core abilities: our ability to develop innovative solutions by leveraging our technological expertise in diverse areas, our loyal employees, and our ability to reach global markets, which you mentioned earlier, Mr. Ikeda. Corporate governance is the foundation of these efforts, and there is no end to improving or strengthening corporate governance. As Chairman of the Board, I will continue to work to improve the effectiveness of the system. Thank you very much for meeting with me today.
2018 ESG Round-Table Talk "Creating Value through ESG Management"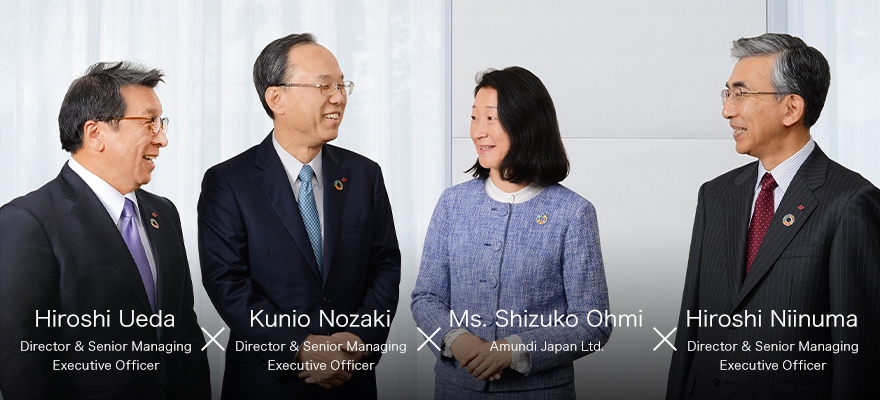 ESG (Environment, Society, Governance) is something that long-term investors weigh heavily when measuring corporate value. We welcomed Ms. Shizuko Ohmi of Amundi Japan, whose headquarters is located in Europe, where ESG investing is expanding, and spoke with her about the current state and future of the Sumitomo Chemical Group, which is accelerating ESG management.
Creating Value through ESG Management
Sumitomo Chemical's Way of Thinking about ESG
Nozaki I understand, Ms. Ohmi, that your company, Amundi, weights sustainability very heavily when evaluating companies.
Ohmi Yes. As companies conduct business, factors such as the course of major trends around the world, and the changes made to regulations in light of those trends will impact long-term corporate value. Whether a company can respond to a variety of situations is extremely important when thinking about future corporate value. In that sense, we consider the importance of ESG initiatives to be extremely high.
Nozaki The origin of Sumitomo Chemical is as Sumitomo Fertilizer Manufacturing, which was founded to make fertilizer from harmful gasses. For this reason, the top leadership of the company has always been committed to solving issues in society through business. Because this idea has been instilled in our corporate culture, so to speak, it is easy for us to accustom ourselves to the ways of thinking found in ESG and the SDGs.
Ohmi If we think about the fact that the chemical industry places a significant burden on the environment, I think there will continue to be a need for the industry to take a forward-looking position on subjects like the SDGs, as your company has done. You are actively working on these issues through such initiatives as the Sumika Sustainable Solutions (SSS), are you not?
Ueda Yes. SSS is an internal program that designates products that contribute to reducing environmental burdens, and currently 44 products and technologies have been designated.
Ohmi Your company recently established the Sustainability Promotion Committee, but what does this committee aim to do?
Niinuma All of our divisions have been working on sustainability, but as sustainability of companies is attracting more attention from the world now, this committee was established out of a need for an organization that could look over Sumitomo Chemical as a whole. We would like it to thoroughly absorb points brought up both inside and outside the company, and to consider how future measures should be taken on a company-wide basis.
Nozaki We would also like to hold debates in the committee going forward.
Ohmi I hope you do.
The Environmental Issues and Responsibilities of the Chemical Industry
Nozaki We have been working hard in our own way, but from an investor's perspective, what are you focusing on when you look at our company or the chemical industry?
Ohmi Looking at the chemical industry from the environmental side, I think that, while there are many business opportunities, at the same time there is also the possibility of a significant burden. In that sense, it is also an industry in which the focus will be on environmental measures and responsible management. For example, the agricultural chemicals you deal with would generally be considered a high-risk business.
Ueda That is true, and it is for that reason that we are implementing a variety of initiatives in our agrochemicals business. We have Japan's only independent organization specialized in researching the safety of agrichemicals, to properly evaluate the environmental risks of products within our own company, and then thoroughly explain those risks to society.
Ohmi Yes, I think your company is taking a very thorough approach to handling risk management. At the same time, how do things look from an even longer-term perspective? For example, looking at the E in ESG (Environment), what measures are you taking in preparation for the arrival of a low-carbon society?
Ueda The technologies that would enable us to achieve the targets set out in the Paris Agreement still do not exist anywhere. Numerous companies and institutions are conducting a massive amount of research and development at the same time, working hard to somehow achieve an 80% reduction by 2050, and our company is among them. Our company would like its future research and development to proceed in the direction of global warming countermeasures and environmental measures.
Ohmi That is wonderful to hear. Right now, many companies are making long-term investments in research and development in order to preserve the planet. They will not generate returns right away, but I think that searching for solutions will ultimately generate significant value for both the planet and the companies.
Information Disclosure and Long-term Goals
Nozaki We are undertaking a variety of efforts, but looking at it from an outside perspective, where is our company falling short?
Ohmi I thoroughly understand that you are undertaking a variety of efforts, but could you perhaps provide more specific and concrete transparency for them? It seems to me that you have a number of initiatives aimed at further raising outside evaluations of your company by more actively disclosing your efforts, such as the methods of safety management for agrochemicals mentioned earlier. Japanese companies are working on sustainability as a matter of course, so you might be inclined to think you do not need to specifically point it out. However, you have to make important information for your company public, and that is also extremely useful for outsiders like us. In particular, such information as the management of chemical substances and your future plans for handling substances of high concern are important in evaluating chemical manufacturers.
Ueda So you are saying that, even if it is obvious we are working on it, if we do not provide sufficient disclosures about it, it will not be sufficiently considered in outside evaluations of us?
Ohmi Exactly.
Niinuma Certainly, when we pointed out the effort we are putting into promoting the SDGs to the government, we received an SDGs award from the Minister for Foreign Affairs. Until now, we had the sense that our efforts would be thoroughly evaluated even if we kept quiet, but I understand that now active PR is important.
Ohmi That really is true. Also, I think it is not just about publicizing your efforts. I think key performance indicators relating to sustainability initiatives should be shown in your management strategy. For example, if the theme of your Corporate Business Plan is "Innovation," then if you include diversity ratios in your goals for that Corporate Business Plan, we will be able to see your company's idea that promoting diversity will promote innovation. For intangible things like sustainability, by having indicators to review your degree of achievement fully incorporated in your KPIs, it becomes easier to evaluate your company from the outside. ESG investment is taking off in Europe, but if a company does not have ways of measuring its performance when outsiders try to evaluate it, it will not lead to greater investment in the company's shares.
Nozaki So you mean that we should both disclose our performance and have long-term goals for it, right?
Ohmi Yes, that is what I mean.
Governance Reform for Sustained Growth
Ohmi In terms of your company's governance, I think your Board of Directors is somewhat lacking in diversity.
Niinuma There is a female executive officer and there are non-Japanese executive officers, but as you say, we still have an issue with diversity on the Board of Directors. We are currently working hard on this point* (for details on our efforts to increase the diversity of the Board of Directors, please see pages 83-85).
Ohmi I also think that there is room to improve in executive remuneration. Currently, it is quite hard to understand how the results of your company's long-term initiatives will be reflected in executive remuneration. Do you not think it might be better to have initiatives that take sustainability indicators into account in annual remuneration?
Niinuma This is something that we are discussing at this very moment within the company. We are holding discussions in the Remuneration Advisory Committee about adding some variability to basic remuneration based on long-term indicators, as well.
Ohmi I see. Many Japanese companies are working hard to improve the environment, but when talking about governance, problems like the weakness of board oversight and their lateness in promoting diversity stand out, and when compared with companies in countries that are advanced in ESG initiatives, Japan is definitely falling behind. With regard to executive remuneration, as well, because of low transparency into remuneration schemes, outside evaluations tend to be quite low. I think it is important to clearly set out the ways remuneration is tied to performance.
Niinuma Yes. Our company is not perfect, but it seems we will be able to take several steps forward.
Ohmi It does seem that a number of new policies will be set out going forward. I hope that you continue to work hard on the governance front, as well.
Nozaki I have once again felt the importance of transparency. There are some ESG evaluation institutions that have given us a low rating because we are not publishing things, even though we are doing them. We will try to rectify this going forward. You have given us a number of suggestions, Ms. Ohmi, and I hope we will be able to take those suggestions and move even further forward.
As of the time of this conversation (May 7, 2018)

Ms. Shizuko Ohmi Amundi Japan Ltd.
Ms. Ohmi graduated in 1991 from International Christian University with a Master of Arts in Comparative Culture. That same year, she joined S. G. Warburg & Co. After working at Lehman Brothers Holdings Inc. and Credit Suisse Trust and Banking Co., she joined Société Générale Asset Management (now Amundi Japan) in 2003. She has investigated companies as a corporate research analyst for industries such as the chemical, textile, oil, automobile, and machine industries. She became head of the investment analysis unit in September 2008 and then became head of the ESG research unit in April 2015. She is a member of the Ministry of the Environment's "Working Group on Incorporating Issues Regarding Sustainability into Investment" and a member of the working group for the "Environmental Reporting Platform Development Pilot Project."