Governance Dialogue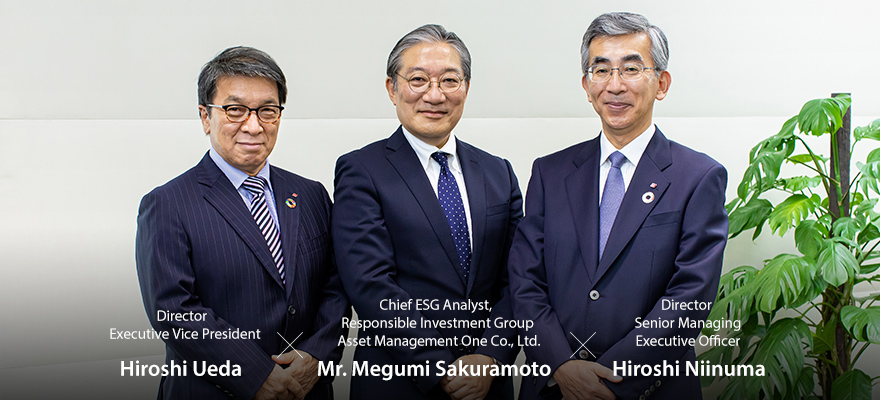 Sumitomo Chemical has established robust operations globally in the bulk chemicals field,while also achieving strong growth in the specialty chemicals area, and is progressing steadily on the road to becoming a resilient company that is able to continue sustained growth. Since the previous Corporate Business Plan, which provided the foundations for this significant performance, Dr. Kunio Ito* has kept a close eye on the Company's strategy and the evolution of its corporate governance as a member of the Board of Directors. He spoke with Mr. Masakazu Tokura, President of Sumitomo Chemical, about corporate governance.
Dr. Ito served as Outside Director of Sumitomo Chemical's Board for six years after his appointment in 2012, and retired in June 2018.
Evolution of Our Corporate Governance that Supports Sustained Growth and the Improvement of Corporate Value
Management by Phase
Under the previous Corporate Business Plan, we strove hard, with an unwavering resolve, to improve the Company's financial strength.
Ito Sumitomo Chemical's Corporate Business Plan represents what can be called "Management by Phase," making extremely clear what the Company seeks to accomplish during the plan period. In the previous Corporate Business Plan (fiscal 2013 to 2015), it was very clear to me that Sumitomo Chemical was determined to reduce interest-bearing debt and generate greater free cash flow, and you made decisions toward this goal.
Tokura At that time, we had a strong sense of crisis. The global financial crisis occurred just after we had taken three major strategic actions, each requiring large-scale investments—first, the Rabigh Project, an undertaking intended to drastically enhance the competitiveness of our petrochemicals business; second, the launch of Sumitomo Dainippon Pharma and several major acquisitions in order to secure a critical mass in the life sciences business; and third, the establishment and expansion of the IT-related Chemicals Sector, an effort to develop new businesses that would become the Company's central pillars in the future. As a result, our financial strength rapidly declined. We became aware that if we failed to make a turnaround and rebuild strong business foundations without delay, we would have no future. We worked to improve our financial strength with unwavering determination, taking all possible measures, from reducing working capital to more rigorously assessing investment opportunities. We built up truly small initiatives, one by one, all across the Company. When we saw our D/E ratio halved—from a peak of 1.4 to 0.7—through these efforts, we were relieved.
Ito Under the current Corporate Business Plan (fiscal 2016 to 2018), launched following these positive results, you have shifted to a more aggressive strategy.
Tokura The current Corporate Business Plan is phase two of our commitment to 'Change and Innovation.' Our strategy is that having enhanced our financial strength in phase one (fiscal 2013 to 2015), we will further improve our business portfolio in phase two, which in turn will lead to phase 3, beginning next fiscal year, and beyond.
Ito I think it is very fitting for Sumitomo Chemical to adopt a strategy of identifying areas where you have competitive advantage and focusing your resources on these fields.
Tokura We have made it clear that, rather than compete by going after scale, we will focus on areas where we can compete with technology, as well as marketing capability. Over the most recent three years, about 75% of our investment has gone to the specialty chemicals businesses.
In the current Corporate Business Plan, we have achieved both a high income level and further improvement in our business portfolio.
Ito As part of your policy of 'Change and Innovation,' carried on from the previous Corporate Business Plan, you clearly express your commitment to contributing to the resolution of societal issues in the current Corporate Business Plan as well.
Tokura You have been promoting the concept of ROESG*1. We feel that that idea of pursuing both profits and ESG is in keeping with the way we do business. The Sumitomo business philosophy—our business must not just benefit Sumitomo, but also the nation, society and the local communities where we operate—has taken root within Sumitomo Chemical. Our products provide solutions to issues in society, as those of the Energy & Functional Materials Sector help solve problems related to the environment, resources and energy, those of the Health & Crop Sciences Sector food problems, and those of the Pharmaceuticals Sector people's health. By using the power of chemistry, we strive to contribute to resolving issues facing human society and bettering people's lives. In this way, we hope to help build a sustainable society through our business activities, and thereby continue to grow in a sustainable way.
Ito I believe that Sumitomo Chemical is a company that Kunio Ito Outside Director embodies ESG management to the core. Moreover, you are running your business in such a way that you increase capital productivity while also pursuing ESG management and the SDGs. The Energy & Functional Materials Sector, created by carving out related products and technologies from the IT-related Chemicals Sector and the Petrochemicals & Plastics Sector, has grown significantly in just two and a half years, and the Company's business portfolio has remarkably improved.
Tokura We have a very well balanced portfolio in place, with one-third of our core operating income coming from bulk chemicals (Petrochemicals & Plastics) and two-thirds from specialty chemicals in the fiscal year that ended March 2018. While the tightened petrochemical supply and demand in Asia was a major contributing factor, the most noteworthy factor is that after 10 years of unremitting effort, we have finally achieved a high-rate operation at the Petro Rabigh plant.
Ito That is all the more heartening to me because as a member of the Board I saw for myself the Rabigh Project going through a difficult period. You have dramatically increased your ability to generate cash flow and income over the last five years, to the point where ROE is over 15% and ROI is over 7%. I think there are only a very few companies that have changed this much. These last five years, I have been greatly impressed by Sumitomo Chemical's ability to get things done.
A concept that does not see ROE and ESG as something opposing each other, but as ideas that are both important and should be pursued. Promoted by Professor Kunio Ito.
Evolution in ESG Management
Continuing to improve governance, making full use of the insights of Outside Directors
Ito Sumitomo Chemical's governance is steadily getting better in a number of ways. A case in point is the initiative of addressing issues that emerge in the assessment of the effectiveness of the Board of Directors. After the Company conducts a survey evaluating the effectiveness of the Board of Directors, discussions are held on the results of the survey, and naturally, in those discussions, some specific issues are brought up that need to be addressed from the perspective of corporate governance. Sumitomo Chemical never leaves them there; it follows through and takes action for improvement by the next year. That sort of sincere attitude and the accumulation of actions over time have caused the Company's governance to evolve to where it is now.
Tokura I do not think of governance as just a system. Together with internal controls, we must deliver results through governance. To that end, we should take full advantage of a Board that has Outside Directors, because they can provide valuable, eye-opening insights from on high, from a different angle.
Ito How transparent can a company be, for example, when sharing information about an M&A project it is considering at a Board of Directors meeting where Outside Directors are present? I think the answer to this question tells you much about the Company's policy. In this respect, Sumitomo Chemical is extremely prompt in providing information, and is also very candid. Depending on circumstances, as much as several months before submitting an item to the Board for deliberation, explanations are provided in the form of "spot reports." I am sure that explaining an M&A project, which involves a body of insider information, to the Board members several months in advance requires a certain bravery, but I never felt an attitude in this company that said "we don't have to disclose this information."
Tokura I think that if a company really wants to put corporate governance into practice in management and develop it into a competitive advantage, it should pursue that level of transparency. Otherwise, the effort won't pay off. If you want the insights of Outside Directors, it is essential that you share with them information necessary for discussion and deliberation as soon as possible. I am promoting this way of thinking throughout the Company.
Ito Another thing that I always considered impressive is that at Board of Directors meetings, you help communicate to Internal Directors what Outside Directors want to convey as well as the background of their comments, by saying, for example, "What the Outside Director meant to say is this," or, "It is a kind of encouragement. He has made that comment because he wants it to succeed." I have rarely seen this kind of thing at other companies. When we make suggestions, we have some reason for saying so. I think it is very important that you as President translate it for people within the Company.
Tokura Within the Company, we have no opportunities to see ourselves from a place a little bit further away. As a result, without knowing it, we have become a very homogenous group of people. But we have to remember that we are part of society. If we cannot take true care of the interests of our shareholders and other stakeholders and earn their understanding, in the long run we will end up unable to continue as a company.
Ito That is corporate governance in the original sense of the term.
Tokura Yes. That is why I am extremely grateful for Outside Directors' suggestions. They push us forward by telling us to take more risk and be truly aggressive when we have decided to be aggressive. They also suggest that we should not hesitate to take a step back when a problem arises after we have made a commitment. Or regarding a project we are considering, they ask us if we have carefully studied critical issues, while calling for timely reporting. Meanwhile, because our Outside Directors have their own specialized fields, from time to time their comments about our business sound so general that some of our officers or employees do not understand exactly what the Outside Directors are trying to bring home to them. For that reason, I would very much like to somehow convey the full meaning of the Outside Directors' messages to those at the Company—I am not making special efforts, but sometimes I think there is something I can add.
Ito At this year's Ordinary General Meeting of Shareholders, a certain shareholder asked about Sumitomo Chemical's corporate governance, and I answered with confidence that the Company's corporate governance has improved remarkably over the last few years. It is no exaggeration to call the changes remarkable.
Tokura I am very grateful to you for the comment. Of course, there is no end to improvement in governance. We will continue to work to make further progress, even in small steps.
Sumitomo Chemical's Future
Aiming to be a company seen as having a conglomerate premium
Ito "Creative hybrid chemistry" is an appropriate basic strategy for this company. In order to continue implementing it, I think that human resource development will become more and more important. Sumitomo Chemical has many employees who have expertise in specialized areas. In order to create something new by combining technology and expertise from different types of businesses, however, it will be necessary to develop "producer-type" personnel, people who have a broader perspective and can help make new things happen.
Tokura I think that is absolutely true. We need to develop personnel who are open-minded, always paying attention to changes and new things beyond their own specialized fields.
Ito The capital market tends to value those companies operating a variety of businesses, as Sumitomo Chemical does under the strategy of "hybrid chemistry," at a conglomerate discount. But you have successfully improved your business portfolio, and have delivered results. I do hope that Sumitomo Chemical will become a company that is valued at a premium, not at a discount.
Tokura Going forward, solutions to issues facing society will involve not just isolated businesses or products, but combinations of many different things. That is exactly what creative hybrid chemistry tries to achieve, and that is what innovation is about. And I believe that is an area where we can display our unique strengths. In the next Corporate Business Plan, we would like to aim to become a company that is valued at a conglomerate premium. Thank you very much for being with me today.
Efforts of ESG